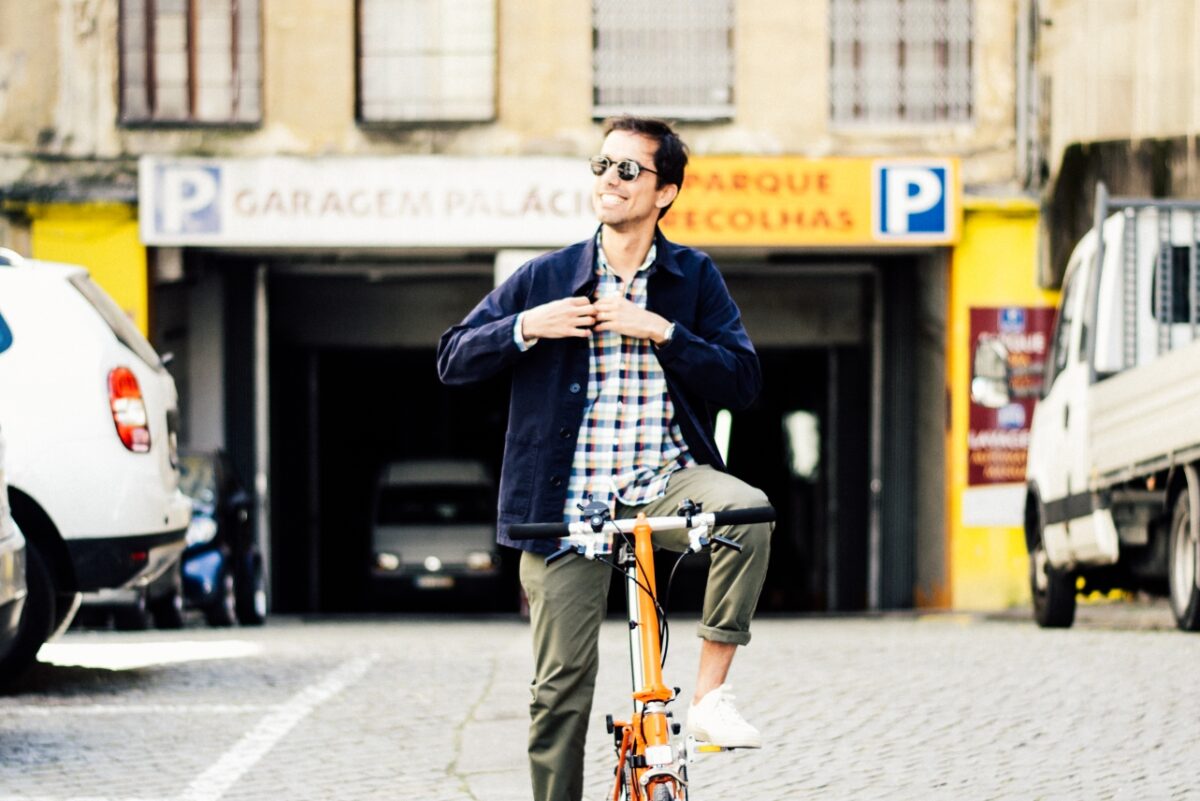 When Ramiro mentioned Newfangle Clothing, we didn't hesitate to invite him for our Brompton Week experience. We've been following this project for a long time and his commitment to quality manufacturing is something we definitely appreciate.
The interview started a few days later at his showroom in one of the most iconic mid-century office buildings in Central Porto and ended with an espresso at a nearby cafe. We talked about commuting in Porto, business, and sustainability and realized we have many things in common. We studied in the same place at the same time (marketing management, if you ask) and both of us are descendants of chairmen from the same football club (here is a football-free zone, though). We both admit not being skilled with our hands but have a profound admiration for those who craft high-quality objects.
Ramiro started his career at the sales department of a big industrial company and then spent a few years in a digital marketing agency. By this time, he was publishing two menswear blogs, which were a great platform for the launch of the Newfangle Clothing online shop. Soon after opening the shop, he started a collaboration with a Portuguese manufacturer and created the first collection with the Newfangle label.
Visiting trade shows, Ramiro realized that there aren't many growth opportunities in the market for the small brands. That's when he decided to start a new venture, Seam Wise,  an agency that imports international independent brands sharing Newfangle's vision, ethics and, of course, a customer base.
Independent brands like Han Kjobenhavn, Qwstion and Novesta are very committed to the quality of their products and materials used in the manufacturing. Novesta manufactures everything in Europe and Han almost everything. Qwstion is outsourcing the production to a company in Hong Kong which complies with the BSCI work and environment standards and, from 2018, all the cotton used to make their bags will be organic and certified. One of my favourites is a shoe made with Portuguese wool from Novesta in a collaboration with the folks from Universal Works.
The Portuguese consumer is still amazed by the easiness and incredible prices of fast-fashion brands. Nevertheless, a growing number of customers is thinking twice before spending money. A shirt made in Portugal with a Portuguese high-quality cloth must have a different price tag than something cheaper made elsewhere. The quality is very different and the social and environmental cost of a long lasting quality garment made overseas is much higher." At the showroom, one can sense the love and dedication to the project. There aren't that many products,  but everything there is very coherent. Doing less to do it better.
Those who work with a product recognize when the design of an object required hard work and commitment. This Qwstion handle, for example, is being improved season after season. These minor changes require hard labour. Probably this is an evolution related to cycling and change of habits and these bags are practical for carrying on a bicycle because the brand founders are keen cyclists. I believe Brompton has a similar story. Their people must be working obsessively to have this perfect small bicycle. Brompton competes in a league of their own.
Ramiro's history with bicycles is similar to others already published here. It starts with his love for sports, the perfect antidote for the "malaises" of urban living. Unfortunately, after a football injury, he had to quit those with more impact. To start a more gentle sporting routine, he first thought about swimming but chose yoga instead. "It's one of the best things one can do". Cycling is very recommended for his injury and commuting every day by bicycle can be important to accelerate the recovery.
I'm Living not far away from the office but use the car much more than I would like to. I usually drive to customers, but bringing the car with me to the office is not practical. A mid-morning walk back home to get on the car is time-consuming, though. The folding bike fits my routine to perfection.
I first heard about Brompton after recommendations from friends living in London. It was how I met Velo Culture. The first time I saw a Brompton, I knew I was looking at an exceptional vehicle and realized how practical pedaling every day can be. On my "car days" I only need to cycle back home, fold the bike in the boot and drive to the suburbs. On the other days, I just cycle."
____________
The Brompton Week is an experience we are making with some of our customers and friends. They are spending a few days with one of these iconic bikes and will tell our readers how it was. Simple, fun and certainly life-changing.